Chicago Magazine/Heavy Metal/2003
If you like the loft apartment on MTV's Real World Chicago you might want to give a call to the studio of Suhail who designed it. He also did the interiors of local restaurants Mod and Tizi Melloul. trained as an architect in Great Britain, he's noted for his sophisticated metalworks, both freestanding pieces and installations, in addition to his stylish interiors.
Hospitality Design/Visions of Sound/April 2003
Music colors a Chicago dance club:
 Chicago-based architect and designer Suhail is growing a reputation as a man of deeply explored concepts. Last year, his design for Chicago dessert bar Sugar themed the (ahem) granularity of the substance that underpins sweets. This January, the debut of his interior for the Windy City bar / lounge Sonotheque (in a former liquor store) gave sight lines to sound.
"Sugar was colorful and decadent, but I wanted Sonotheque's design to be dictated by the music. I wanted sound to be the color," Suhail says. To that end, the look of the 3,500-square-foot volume located in a hiply transitioning Ukrainian neighborhood is all about the performance and finesse of DJ-driven music. (it includes a bar, lounge and DJ booth.)
Suhail admits that given the abstract nature of his concept, the design application seemed lofty. But he endeavored to let sound – specifically sound management – inform his design. One logical step in accomplishing this was deciding to drastically limit the use of color, rarely straying from a subtle palette in a mere eight shades of gray.
Then, to effectively translate the vision of sound in the eyes of the skeptical, cost-conscious clients, he unfurled a veritable menu of ways in which materials used for furnishings can perform double duty as sound-enhancing devices. That meant that every design element to absorb, diffuse, or reflect sound, as well as add to the textural and visual appeal of the space.
Absorption, for instance, is achieved by decorative, functional round panels placed directly above seating; they're made from Snowcrash, a special form of felt that takes in mid-range frequencies and disperses them back into the space. Diffusion, meanwhile, is enhanced by the designer's choice of aluminum ceiling tiles – for clean, modernistic allure and function – from a line called Geometrix produced by USG. The ceiling tiles are angles at various heights, including over elevated seating areas where they disperse sound. Even the club's floors, made of vinyl wood and plastic concrete tiles, and custom low slung couches of high density foam upholstered in ultra-suede are active reflectors of high frequencies. "Basically, I was using every acoustic component to make the overall architecture work," Suhail says.
Naturally, a concept so carefully executed inside can't be abandoned outside.
Sonotheque's façade is also covered almost entirely in gray aluminum skin; its only distinctive note is a vertical column of lighter-gray geometrically angles panels. No signage and nearly colorless, its effect is Suhail's idea of a "faceless" façade. "I wanted people to know something is there. But only people who need to know will figure it out," he says.
Chicago Magazine/Expert Witness-Space Man/August 2001
MTV wanted the hippest designer in the city—the colorful whiz behind the sharpest restaurants and trendiest homes. That would be Suhail.
Vitals:
Suhail, age 37, supremely hip interior designer. Loved physics as a lad in London; swiped his sister's art portfolio to get into architecture school. Came to Chicago in '93, where he jumped from metalworking to creating progressive spaces like Mod, Tizi Melloul, and p.45. Recently designed the house for the latest edition of MTV's Real World, filming this summer in Bucktown.
Inspiration? Go on Location:
I had the space for Tizi Melloul, but I didn't quite have the textures and the materials and the felling yet. So I went to Morocco—to Rabat and Casablanca and Marrakesh. I was able to smell, see, touch, feel and experience textures everywhere, whether it was a cobblestone street, a whitewashed house, or the sea washing against the rocks.
Fall Color Forecast:
Based on what I saw in Italy, we're probably looking at two-tone, three-tone, or four-tone elements. Not the same color but vibrant colors together. I saw this chair which had a backrest and a seat that were one color. There was a console element that was a different color and then an ottoman in a separate color. There were also soft geometric shapes for furniture.
How to Get Your Way with Clients:
Guide them down the road as opposed to just giving them what they want. The idea is education—to open their minds up to what they are not used to. It's tough but that's the only way I want to work.
Getting Past Trends:
I try to get ahead of the game, before it gets through to America or Chicago—a couple of years, generally speaking. Read Wallpaper and Blueprint Magazine, from London. Nest, from New York, Interni and Domus, which are Italian publications—you can pinpoint things that are so cool that there is no way they would have them in Chicago.
How to Maximize a Small Space:
If you want to accentuate the height of a space that has a low ceiling, go with bold vertical striped or blocks of color. If it's a short, stubby room, do horizontal stripes to accentuate the depth. Just four or five thick blocks. You could do that with wallpaper. If you've got a long, narrow space and windows on one side, put a mirror on the opposite wall in alignment with the window. Light is reflected and pumped back into the room.
You've Got to Work to Be Hip:
The challenge is to reinvent what a chair or a table is. I'm working with this advertising company downtown; the young, hot art directors said to me, "We need to hip up the lobby area." So I reinvented the computer workstations. They look like motorbikes with the handlebars as the computer and the back seat as the hard drive. If you look at something long enough, you can reinvent it. Consider what the function is and rework it into something unique and wonderful.
Ten by Ten/Making a Scene/March-April 2005
Suhail's Interiors Exhibit A Flair For the Dramatic.
When I was a kid, I loved movies, and it's part of why I do these installations, these worlds I create… it's still inherently part of me, " says architect and designer Suhail, whose dramatic, meticulously detailed interiors are positively cinematic. Each project is a finely crafted mise en scene with the perfection of a masterfully composed frame of film: everything is there for a reason.
Like an obsessive film director, Suhail distills concepts into visual language and frequently incorporates minutiae into his work that his audience may not notice or completely comprehend. Yet the details add up to a distinct impression. A guest in a Suhail designed space comes away with a feeling. His work may often be conceptual, but it's never ambiguous.
This clarity is the result of Suhail's own brand of deductive reasoning: "When a visitor goes into a space, they're going to be hit by these elements, objects, whatever they are. Hopefully they're going to have something in them that answers a question. I want them to leave with an emotion and say, 'Oh, I get it.' It's kind of like algebra. I know what the elements are and I know what the answer is when the visitors leave, I just don't know how to create the question." The Chicago-based Suhail, whose portfolio includes some of the most popular – and stylish – restaurants in the city, as well as MTV's The Real World: Chicago house, is likely to keep surprising with new answers and new questions.
One of the most recent Suhail-designed spaces to open is Chameau, a Franco-Moroccan restaurant in Los Angeles. The themes were similar to one of his first high-profile restaurant jobs, Tizi Melloul in Chicago, a project for which he traveled to Morocco for inspiration. For Chameau, he reinvented that concept with a new level of specificity: deriving inspiration directly from the restaurant's name (Chameau means "camel" in French), the interiors feature abstract references to sand dunes and stylized camel shapes mixed with warm textures and patterns.
Slated to open in early Spring in Chicago's West Loop is F212, a small coffee shop with an "anti-Starbucks" theme. "it's not going to look anything like a coffee shop…and it's definitely not going to look like anything in downtown Chicago," Suhail says. It's a good example of the designer's full-concept package, which includes all elements of design in addition to the interior space. His concept extends to the shop's logo, which incorporates a diagram of a caffeine molecule. "Fahrenheit 212," in scientific terms, is the point at which water boils. The shop will brew its own coffee and present it as a pharmaceutical product in chemistry lab-type setting. Suhail calls it a "demented pharmacy for coffee" that will incorporate references to hospitals and temperature with vintage coffee brewing equipment, old televisions, thermometers, and other retro-scientific elements. In typical fashion, Suhail describes it as "clinical…but with a sense of warmth…it will have a very clean look to it, but in keeping with the references to temperature, there's [visually] a 'cold space' and a 'hot space' within the overall scheme."
Another of Suhail's current projects at home is Goa, a nightclub slated to open later this year with a dance floor that may become the biggest in Chicago. "Goa" refers mutually to Goa Trance, a high-energy form of psychedelic trance music, and the coastal region of southwestern India for which the genre was named – an enclave for adventure-seeking hippies in the 60s. The club's interior will include a chill lounge off the main bar area with a sci-fi feel and a martini lounge that will feature traditional Indian raja style and textures. He's designing the dance floor with a lot of video imaging to create ambience instead of relying purely on lighting. "typically, nightclubs are all about lasers and light shows and shit like that," Suhail says. "what I want to do is eliminate everything that we are accustomed to about lighting in nightclubs. I like to look at what's been done and chuck it out the window." In keeping with the Indian theme, his videos will draw inspiration from Bollywood, but in an indirect way. "india is bigger than Hollywood, why not use that source material and abstract it? I don't want to be too Disneyland, though – too gimmicky."
London native Suhail received both a Bachelor's and Master's degree from the Birmingham School of Architecture in England and came to Chicago in the early 90s. After finishing his graduate work, he tagged along with a group of younger students on a study trip. He put together a small portfolio of sketches and snapshots on the plane, and "shoved it under the nose" of a Skidmore, Owings & Merrill partner during a presentation for the students. They hired him on the spot. After working at SOM as a self-described "suit" for about six months, the recession hit. Instead of returning to England, Suhail stayed in Chicago because he was having "too much of a good time." He worked doing photographs and renderings for a book about the history of architecture, all the while entering architectural and furniture competitions. He designed a chain of hair salons for friends, teaching himself to weld and fabricating the interior elements himself. Eventually, he started his own studio in a garage space on the North Side. At this point, he was "all about metal work," creating "industrial-looking, hard-core spaces" like p.45, the pioneering Bucktown boutique that opened in 1997, when the neighborhood was still a bit of an edgy artists' enclave. Then, "the people from Tizi Melloul called."
Suhail had known prolific Chicago restaurant/club impresario Terry Alexander vaguely, from Alexander's visits to design shows. In spite of Suhail's then hard-edged aesthetic, "I think [Terry] understood my process," Suhail says. After tremendous success with the lushly appointed Tizi Melloul, Alexander asked him to design MOD, a Wicker Park eatery that opened in 2000. There, Suhail juxtaposed the organic food with a space-age interior made entirely of a synthetic materials. "That's when I started really focusing on creating interior spaces as installations. I don't want to say they're art installations, but they're very site-specific," he describes. At Sonotheque, a club in the East Village neighborhood, he used acoustical tiles as design elements to establish an audiophile aesthetic. At Sugar, a dessert bar in the West Loop, he approached the theme on a microscopic level, making visual reference to such things as sucrose, insects, and rotting teeth – among others.
As he does with every project, Suhail begins the design process with intense research, which he considers "the fun part." He compiles a brief – a "bible" of facts and ideas on the given theme, many of which are obscure and/or peculiar – in order to sort out his key objectives. Then, he fills sketchbooks with doodles that eventually are engineered into tangible, functional things. Suhail likes to work with projects as they are being built out, and may not know what a surface, a texture, or even a piece of furniture should be until he sees that space coming together. He says this allows him more freedom, an organic feel that allows the ability to have "happy accidents." Suhail expects his clients to "freak out" as a project is approaching opening night. ("it happens every time.") With scores of interconnected elements, many of which are quite subtle, the big picture can be difficult to see. "It's only at the end that clients fully get it," he laughs.
Suhail's creative philosophy is to "challenge, disrupt, evolve." His next project will do just that, though he prefers to keep the details under wraps for now. What he will say is that it's a submission to a design competition that deals with the concept of American freedom. Having grown up outside the US gives him a unique perspective. "The idea of American freedom is a beautiful thing. It's a fantastic concept, but it falls short…terribly." He's interested in skewing the traditional testaments to freedom found in monumental sculpture and selective history, and in representing freedom in tactile terms, appealing to young people by using multimedia elements, and ultimately praising freedom by revealing what it might be like to not be free.
And so Suhail continues to evolve with a modus operandi of perpetual change. He likes to use materials he's never used before and continually strives to outdo himself. "I don't want to have an identifiable aesthetic," he says.  "The fact that everything is different is a common factor."
Chicago Tribune Magazine/Welding Power/July 2001
From restaurants to TV shows, everybody wants the Suhail touch:
Occasionally, a home is a work in progress. It gets renovated or decorated, but at some point it's considered done. Unless you're in the biz and always exploring your options. "My living space is my lab," says designer Suhail. "It's become an ongoing experiment where I'm always trying new things, so it's constantly changing and evolving."
Ideas that have come to fruition in Suhail's Bucktown loft include sinuous chairs forged of metal that are actually cozy and comfortable, ethereal cabinets and chests made with muscular metal skeletons sheathed in cloudy fiberglass, curvy lamps fashioned out of steel mesh stretched taut on wire frames, and an entire room system modeled on the concept of a Swiss army knife, with fold-out components that become a bed, a closet, shelves, drawers and a vanity (this piece is currently on exhibit in a Milan gallery).
He builds everything himself, a process he relishes. "There's nothing I can't make if I out my mind to it, and I like tackling new projects," he says. He also finds the thought of putting his singular pieces into mass production unappealing. "I don't want to constantly repeat myself and would rather to continue to explore new ideas."
Like his living space, Suhail's business is also a work in progress. A British architect, he moved to Chicago in 1990 to work for the architectural firm Skidmore, Owings & Merrill. He was laid off after just six months because of the recession, then got a job in architectural publishing. At night, he dabbled in design, working for friends and acquaintances who were on shoestring budgets. "I became an expert at making something from nothing," he says. A year later, he left his desk job and opened up shop.
Today, his job budgets have increased, and he has become a star on the Chicago design scene. Past projects include a number of residences, the restaurants Tizi Melloul and Mod, and the chic Bucktown boutique p.45. Now 37, Suhail is the production designer for MTV's "Real World" Chicago house. Filming of the show begins this summer and by the time it airs, Suhail just may be able to add national stardom to his credits.
Chicago Social/Shape Shifter/October 2000
All hail Suhail, the daring design alchemist behind the hypnotic interiors at MOD and Tizi Melloul restaurants.
It's not surprising that Suhail grew up reading comic books, soaking up TV shows like Dr. Who, and clocking hours watching science fiction and horror films. "My head was always in different worlds," says the 36-year-old Chicago designer. "So in a way it's no different than where I am now." No different except for one small matter: These days Suhail creates his own worlds. Those worlds are two of the most visually striking restaurants in Chicago, and they are so far apart visually that they might as well be different planets: the newcomer MOD. (the period is intentional) in Wicker Park, which opened in June, and the one-year-old Moroccan fantasy Tizi Melloul in River North. Each place displays a distinct vision from the fertile imagination of Suhail, a British-born designer who since he moved to Chicago in 1991 has been designing ever more ambitious works.
Suhail (pronounced sa-HAIL) declines to divulge his surname, using only his first name professionally to "create mystery," he says, and to ensure that it "becomes synonymous with his designs." But he's had no trouble being recognized by design industry peers for his entries in furniture and design competitions in Milan and here in Chicago, where his star has steadily been on the rise. In the last few years, he's designed furniture for the former trendsetting Wicker Park restaurant Okno and several private residences, the interior of the chic Wicker Park boutique p45, and a variety of hair salons in Michigan, Chicago and LA. It is the restaurants, however, which have brought him greater exposure, winning some mentions in national glossies. Stepping into Suhail's Wicker Park studio is like entering the lair of some futuristic laboratory scientist: A pair of 10-foot steel sculptural pieces and a stainless steel sitting chair, organic and voluptuous in aspect, greet you as you enter. Huge stainless steel doors slide to reveal storage areas. Overhead hang several white mushroom-shaped light fixtures that were used in Tizi's bar area. A corrugated steel stairway leads up to his office.
Suhail, who is of Pakistani descent, grew up in the predominantly South Asian town of Southall just west of London, in a diverse, shop-filled neighborhood known locally as "Little India." His parents, who had emigrated to England in 1963, were factory workers who struggled to provide for him and his older brother and sister. "I was never artistic as a child," Suhail admits. "I loved math and science, but I pursued architecture because I liked the drafting table--you could write away on it and no one could see your work." Suhail says he "scraped by" in school, and only got into England's Birmingham School of Architecture after swiping his sister's portfolio (at the time she was a promising art student) and submitting to the university's admissions board as his own. It wasn't until he began working toward his master's degree, he says, that he began to "connect with his creative side."
Upon graduation Suhail was offered several jobs in London, but, after attending a presentation for students at the Chicago office of Skidmore, Owings & Merrill (SOM), he jumped at a chance to come here in 1991 to work at the firm's headquarters. Unfortunately, after six months as "a suit," he says, the recession hit and he was laid off. While Suhail says he was bitter at the time, losing his job proved serendipitous, setting his career on a different path. Soon after, he won the job for Walton Street's Trio Salon, a charming English cottage design that's a marked departure from the typical chrome-and-mirrors salon. Then a friend who had seen some of his creations--side tables, coat stands, hat stands and lamp structures--and knew a gift shop owner, asked if he could make 20 candlesticks for the shop. Suhail, who had only tinkered with welding as a student, said no problem and quickly went out and bought himself a welder for a few hundred dollars. "Candlesticks became beds and beds became dining room sets and dining room sets became complete kitchens," he says of his on-the-job design education. "At the end of the day, if you're a designer you can design anything." A series of residential projects--everything from fireplaces to entertainment centers--followed in Chicago, Naperville and Evanston
The SOM experience paid off in an indirect way. It was there that Suhail met Obi Nwazota, the maverick designer behind Wicker Park's avant-garde clothing boutique Softcore and restaurant/club Gaijin Hotel. Nwazota had split off from SOM, started his own firm, Ona Design Studio, and was busy designing the interiors for restaurateur Terry Alexander's trendsetting Wicker Park restaurant Okno. With Alexander's permission, he asked Suhail to come up with some sample furniture designs and a budget. Suhail ended up designing stools and tables for the restaurant. Suhail and Alexander stayed in touch. Seven years after their initial meeting, Alexander, who also owns Mia Francesca, Soul Kitchen and Danny's Tavern, approached Suhail with the Tizi Melloul project. Suhail says he knew when the Tizi job came along that a restaurant afforded him a high-profile way to showcase his talents. In both restaurant jobs, he had a hand in everything a diner will see: He dreamed up the space, chose the materials, sourced furniture (if not building it himself), and even did construction on the site. "I don't just want to do run-of-the-mill design," Suhail says. "It's got to have a philosophy to it, and it's got to be rooted in architecture."
For Tizi, located at 531 N. Wells Street, he took a trip to Morocco with a camera, camcorders, and sketchpad so he could record impressions (a sunset, a cobbled street, a painting) that might guide him in designing the restaurant. "By the time I got back, my whole concept was developed," he says. In the end, he decided to incorporate the number five into much of the design: He had visited five cities, the Moroccan flag features a five-pointed star, there were five partners involved in the restaurant, and the floor plan eventually comprised five rooms. While he used traditional elements like imported poof seats, tapestries, and silver lanterns with stained glass panels, he didn't want to adhere strictly to a traditional Moroccan decor. "We're not in Morocco. We're in Chicago," Suhail says. "That's the point of view I was coming from. It's a modern restaurant with a traditional twist."
The "old" elements in the restaurant include copper-topped tables, shapes evocative of the terrazzo marble forms found in Moroccan mosques, and colors that represent Casablanca. "New" elements include a stark white bar area with half-egg-shell-shaped chairs and a cluster of orb-shaped light fixtures that is intended as an "oasis," and chairs inspired by ones he spotted in Milan which feature ebony backrests and deep seats with red velvet skirts that cover all but the bottoms of the legs--"just like the women in Morocco, who were completely covered except for a touch of the ankle." Alexander and his partners have given Suhail the freedom he says he needs in designing a total environment. At times that meant putting a lot of faith in a designer whose concepts evolve even as the space is being built out. "It wasn't until a week before Tizi Melloul opened that they finally understood everything," Suhail says. "There weren't any renderings. I do everything in sketches by hand, and I kind of made things up as I went along. That's part of my process."
From a rich, culturally based environment with Tizi he moved to MOD., a space that was intended to reflect a forward-looking modernism. "For me, modernism in architecture is about the new materials out there," Suhail says. "The fabulous synthetic plastics and rubbers, recycled materials. I started looking at the processes: water-jet cutting, laser cutting. I thought for me that's what MOD. is. It's about these new technologies and new materials. And MOD.'s name is rooted in '60s influence, so the designs are based on shapes and forms of the era, particularly plastic, which led to the use of all-synthetic materials." Diners flow through three distinct environments at MOD., which lies just south of North Avenue at 1520 N. Damen Ave. They enter through a small foyer with glowing orange acrylic ceiling panels that were blown into shape and then glued in place; distorted mirrors along one side give the entry a deeper feel that Suhail says was inspired by 2001: A Space Odyssey. From there they move to a bar and dining area bathed in cool, clean white lighting and furnishings. "I wanted to purify people as soon as they walk in," he says.
From there diners can peer into the main dining area through a panel of recycled materials (shredded bottle tops and detergent bottles) riddled with holes. The dining room is furnished with Corian-topped tables and more half-egg-shell-shaped chairs (called Bongo chairs). Banquettes are made of recycled foam that resembles marble, and are surmounted by safety-domed mirrors ("convex shaped so that patrons can see around corners and don't crash into each other," says Suhail) and light fixtures in Jell-O-like blocks of green and blue--actually packaging bags ordinarily used for shipping fragile materials which are combined with light-diffusing gels. (Suhail collaborated with designer Daniel Stering to create them.) The "eco-floor" of the restaurant is composed of recycled, shredded tires. The finished space is a visual and tactile pleasure. "What we got is not only a beautiful room, but also something totally unique that can't really be copied in Chicago or in any other city," Alexander says. The restaurant's huge success since its opening can certainly be attributed in large measure to Suhail's design, which has been featured in Food & Wine and Interior Design magazines.
He adds that Suhail's artistic process was occasionally frustrating as opening day approached. "But he'll give me that English accent: 'Don't worry, Terry, it'll be taken care of.' He can elegantly talk to me and calm me down and get away from it," Alexander says. But the day is coming, he laments, when he no longer will be able to afford Suhail's services. "It's just a matter of time before he hits the big time." Although Suhail says he's open to designing another restaurant, and hopes to collaborate with Alexander again, he is intent on diversifying his projects and is careful not to pigeonhole himself. He would like to design for a "cool boutique hotel," for instance. Prospective projects include a redesigned lobby and reception area for an advertising agency; a computer kiosk which would be placed in malls nationwide; and a residential project for a music producer in New York.
"I fall into things," says Suhail, who, clearly, has many more worlds yet to explore.
Food and Wine/Suhail: Conceptual Artist/Sept 2000
The London born designer known simply as Suhail has created only two restaurants so far both in Chicago, But with each one he invented an entirely new visual vocabulary. The first, Tizi Melloul is lush ode to Morocco filled with hand woven textiles, tooled leather ottomans and other traditional crafts. The other, Mod, is a candy colored riff on modernism in which one motif - rows of cut out circles - is repeated in such synthetic materials as recycled rubber, corrugated fiberglass and acrylic. the circular theme extends to the convex safety mirrors on the walls and Suhail's own egg shaped chairs.(His designs were shown this year at the prestigious Milan Furniture Fair.) On the strength of these eye catching projects, Suhail has been the buss of the design world. He hasn't yet taken on any more restaurants, however, He's waiting for a project that's - you guessed it - completely different from whats he's already done. 
i4design/Suite 16/Spring 2007
Suhail. Designer / manufacturer:
Why we love him: "I'm not going to apologize for being a control freak," says Suhail. And that's okay. Neither clients nor those who experience his lounge, bar and restaurant environments would dream of requesting an apology. Handling every design aspect –including lighting, graphics and furniture –this Chicago-based architect-by-training leaves nothing to chance, establishing control-freaky parameters so that no part of his vision gets lost in execution.
What he's done: Not that he's systematized his process over much. When suits pulled out diagrams during a design meeting for chef Douglas Rodriguez's Delacosta in Chicago, suhail suggested that they junk the charts and "give me a theme – one idea –and Iwill work it up". What they gave him "European Latin Theater." What he worked up: A jewel toned ode to 16th century Commedia Del' arte, whose every mask filled corner alternates between whimsical and macabre. Its typical of Suhail's  capacity to trans-form the scrawniest germ of an idea into an immersive, emotional experience.
The "lava" in Chicago's new lava Lounge, for instance, launched a geologically inspired design whose sculptural ceiling creates the illusion of a blistering lava flow ahead. And a quick sketch of whirling dervishes, done while traveling in Marrakech, inspired Suhail's ord-shaped lighting fixtures –which billow like robes of his ecstatic dancers –for Chicago's Tizi Melloul.
Never mind that many won't get the ref. " I want to give people elements they understand immediately, and challenge them to think harder about others," he says, " it allows people to draw their own conclusions. And to me, that's what a space should be about."
Q. If you died and could come back as a building , which one would it be?
A. Frank Gehry's Guggenheim Museum Bilbao is by far my favorite building, because to me , its all about emotion. When people look at that building, they touched, And that's what I want to do with my work. The other thing is that it sits on this enormous scale along the river, so nothing about it is understated. Its not hiding itself. And that's how I sometimes feel about myself. You know, take it or leave it.
Q. What are you afraid of regarding the future?
A. Nothing really. When I came here 14 years ago from England out of school, I had no money and no job. It was such a long slog. But now I have this grate series of clients and more large scale projects in negotiation, and I can embrace every one of those struggles, because I understand that they were all part of the journey. So no, I'm not afraid of anything.
Chicago Social/Chicago Confidential/October 2006
Vision Quest. Architect-designer extraordinaire Suhail helps you party in style
For some reason, there seems to be an unspoken rule that people with just one name are inevitably cooler than everyone else. Think about it Madonna, Bono and even Prince have something special about them that's sets them apart from all of us boring two name folks. And , local architect extraordinaire Suhail is a perfect example of his one name phenomenon. The creative force responsible for the cutting-edge (read sleek, colorful and invigorating) décor at local hotspots like Sonotheque, Del Toro and even women's boutique p.45 -  along with business and residential spaces around the entire country – Suhail's work has been dominating the Chicago scene for years (his first foray into the restaurant / lounge world was Tizi Melloul in 1999). Just last month, he put the finishing touches on one of the most anticipated restaurant openings of 2006: Delacosta, a Latin-themed restaurant / lounge located in the River East Art Center that is being spearheaded by celeb chef Douglas Rodriguez. We snagged 20 minutes of Suhail's time to chat about his design philosophy, his phenomenal rise to success and what he loves most about Chicago.
Where do you go to celebrate after you finish a project?
There is no real celebration because I am mentally and physically exhausted after the final installation. I'm involved with a project for almost 6-8months, sometimes longer - developing and working with the clients and being on site everyday to coordinate with the contractors. It can be very frustrating to deal with different personalities and agendas, but to come through it all and still have my design integrity is exhilarating.
What's your favorite restaurant? Why?
I will always say it is the current project I am working on, so right now it happens to be Delacosta. The fact that a chef of the caliber of Douglas Rodriguez selected me to design his Chicago restaurant is a great honor but the to be able to satisfy him with the design and excite him with the concepts is another added bonus.
When you moved to Chicago in 1992, did you imagine you would be here 14 years later?
Never, I came here for just one year to work with Skidmore, Owings and Merrill. I had no business staying and starting what I did. But to plod along and have these opportunities has been fantastic; even MTV came calling in 2001 for the Real World house for the Chicago season. I mean how crazy is that, for someone with my background, from West London with no prior TV production experience? But not backing down, being persistent and having a strong belief in myself and being totally passionate about what I did has been at the core of it. And I had the extremely good fortune of meeting Terry Alexander [the owner of Tizi Melloul] in 1999 when I had no restaurant design experience. That opportunity started the ball rolling.
What has made you stay?
Work finally became steady after what seems like an eternity of working my ass off to get to this point, and I have fantastic resources and a lot of passion for what I do. I have completed projects in LA and New York and all of the furniture and fixtures and artwork has been fabricated in Chicago, so why would I l want to move ? I still have a lot to learn and do in Chicago.
And, now that you are finishing up Delacosta, what is next for you?
As Delacosta winds down, I'm getting excited about the redesign of Lava Lounge. Delacosta will get a lot of press due to Douglas Rodriguez but I am making sure that Lava Lounge hits back with something completely different to say. In addition to a few more concepts for bars, lounges and restaurants which are being developed, I'm really excited about a major concept for the Museum of Science and Industry her in Chicago and also the design and product development offices for Segway in New Hampshire.
Interiors/MOD is in the Details/August 2000
Have plastics, will innovate: a new Chicago restaurant celebrates material culture.
Chicago has long been a bastion of modern design, but "the minimal thing has been done to death here," says resident Suhail, 36, a British-born architect and furniture designer who emigrated here nine years ago and goes by his first name alone. "Projects here always seem to look back or take their cues from Europe or the Coasts, rather than forging new ground and showing originality."
"It's time to move on," Suhail insists, to put Chicago in the vanguard once again with designs that reach beyond well-thumbed lexicon of materials and forms. His goal of "relating to modernism in a new way" resulted in MOD. a restaurant that opened in June in Chicago's fashionably funky Wicker Park neighborhood.
When he was given the commission, Suhail knew only the style of cuisine (modern American, as interpreted by rising-star female chef, Kelly Courtney), the limited budget (under $500,000), the space requirements (seating for 70, plus the generous bar area, in only 2,700 square feet), and the time frame for completion (a mere three months). While the owner, restaurateur Terry Alexander, hoped for an interior as innovative yet distinctly American as the food, he also wanted it to be neutral enough to endure aesthetically for more than a season or two. "I recently closed another eatery that had a futuristic décor, but it seemed dated after only three years. So I was leaning towards something more classically modern this time around," Alexander explains. Suhail had recently worked with Alexander on Tizi Melloul, a French-Moroccan eatery that melded the "exotic East" with the "sleek West" in a dualistic milieu in Chicago's equally chi River North neighborhood, and the pair developed a relationship of mutual trust and respect. With MOD., Suhail wanted to do something totally different, and Alexander says he gave him "90 percent free rein."
Suhail's first concern was to give the place a cohesive conceptual foundation, to make Alexander's notion of a modern space more meaningful. Instead of resorting to materials and furnishings that were mid-century, as Alexander suggested, Suhail used the high-tech and synthetic materials of today. He mined a bevy of resources that owe their existence to innovations in the automobile and aerospace industries and "hadn't really been looked at for interiors before," he maintains. These materials include acrylic panels, industrial confetti foam, inflatable plastic packing bags, compact fluorescent bulbs, and recycled rubber tires, plastic bottle caps, and jugs. Anything that did not incorporate these contemporary substances—such as the Arne Jacobsen dining chairs Alexander suggested, for example—was banned by Suhail for the project. The resulting space proves Suhail's notion that modern need not mean minimal.
The restaurant has fashionably clean lines, (nothing here is plump or cushy, and even the vinyl upholstery has squared-off edges) and is laden with articulated details that give the eye plenty to take in, such as neatly patterned partitions in a variety of eclectic materials, rigorously positioned light fixtures in bold hues, and arresting furnishings, which all employ colorful plastic elements fabricated with injection molding.
A long, electric-orange entryway, which runs parallel to the restaurant's drinking and dining areas, looks to be constructed of the same stuff used for those ubiquitous plastic storage cubes from the early '70s. In reality, this attenuated vestibule is paneled in tough, dirt-resistant, steel-rimmed acrylic squares, some debossed with a circle to create the restaurant's circle-in-a-square logo. The vestibule floor is covered with sturdy Johnsonite rubber tiles, of the sort usually reserved for kids' playrooms.
In MOD.'s cocktail lounge, which commands the front third of the restaurant, the focal point is a stainless-steel-clad L-shaped bar that exhibits the geometric precision of a Mies construction. The surrounding stools and Corian-topped pedestal tables, which Suhail designed and fabricated, have the simplicity of mid-century pieces and blend well with Ron Arad's Tom Vac chairs. Suspended from the ceiling, a wildly original lighting fixture, that Suhail engineered with fellow Chicago furniture designer Daniel Streng, incorporates 40 compact fluorescent bulbs, each covered with several layers of gel to diffuse the light's color and intensity, and wrapped in inflatable plastic shipping bags. Screen-style partitions, fashioned out of a variety of materials, help to articulate the dining areas. One set, made of perforated confetti-colored recycled plastic, divides the dining room from the bar. Another, constructed of particle board, can be slid into place to create a private area at the back of the room. A third set—steel enameled in the same electric orange as the entryway—hides the restrooms, and a fourth, in translucent corrugated fiberglass, blocks patrons' views of the kitchen without eliminating available light.
At the back of the restaurant, Suhail's Corian tables are paired with egg-shaped, injection-molded plastic Bombo chairs in green and blue. The banquettes lining one wall and the 12 chrome-and-aluminum chairs that surround a lone communal table are furnished with clear-vinyl seat pads stuffed with multicolored industrial confetti foam and garnished with white circles in the center—another nod to the restaurant's logo. The circle motif reappears in concave marine-blue glass pendant fixtures and convex safety mirrors that stud the wall above the banquette—not for protection but to allow diners a voyeuristic scan of every corner of the room. The floor, which appears to be out of sumptuous terrazzo in dove gray with a sea green inset, is actually rubber that is made from recycled tires and is more commonly found in playgrounds and gyms.
The innovative use of materials has struck a chord with diners: Alexander says the place has been full since the opening in mid-June; the late-night crowd is especially excited by the bold entryway and the sleekly appointed bar. Instead of paying homage to projects elsewhere, Suhail has forged a forward-looking environment with MOD.: it makes it's own rules and demonstrates the originality he champions.

Chicago Tribune Magazine/Welding Power/July 2001
From restaurants to TV shows, everybody wants the Suhail touch:
Occasionally, a home is a work in progress. It gets renovated or decorated, but at some point it's considered done. Unless you're in the biz and always exploring your options."My living space is my lab," says designer Suhail. "It's become an ongoing experiment where I'm always trying new things, so it's constantly changing and evolving."Like his living space, Suhail's business is also a work in progress. A British architect, he moved to Chicago in 1990 to work for the architectural firm Skidmore, Owings & Merrill. Today, his job budgets have increased, and he has become a star on the Chicago design scene. Past projects include a number of residences, the restaurants Tizi Melloul and Mod, and the chic Bucktown boutique p.45. Now 37, Suhail is the production designer for MTV's "Real World" Chicago house. Filming of the show begins this summer and by the time it airs, Suhail just may be able to add national stardom to his credits.
Metropolitan Home/What's Modern Now/March-April 98
SHEER
—As in all of British architect Suhail's designs, the joints, hinges and welding on this fiberglass-and-steel cabinet are left clearly visible, proving that it is what it is.
Metropolitan Home/metro/April 2007
Prepare yourself for a bit of theater in Neuvo Latinos star chef Douglas Rodriguez's latest restaurant, Delacosta, next to the city's hopping Navy Pier. The 12,000-sq/ft space, dreamed up by designer-architect Suhail, is surprisingly intimate, with dramatic jewel toned fringed curtains delineating one dining-lounging space from the other. Features include a ceviche and sangria bar and private cabanas.
Metropolitan Home/Metro/March-April 2003
These days Sugar, a 4,000-square-feet dessert bar from club impresario Jerry Suqi, has become the sweetest downtown nightspot. From the front doors embellished with dental x-rays and curtains studded with enormous sugar molecules to the lollipop-shaped tables. Suhail, Sugar's designer, has created a place that references its offerings: a sophisticated oeuvre of desserts and after-dinner drinks.
i4 design/Liberty Tree 2.0/Fall 2007
Sometimes our best work is never realized, it may be an entry in a competition. A rendering for a client presentation that never comes to fruition or just a dream we someday hope to build or design. Just as the muses were venerated throughout ancient Greece, we dedicate this back page to those dreamers and artists as an inspiration. Liberty tree 2.0 submission for the "Freedom Museum Sculpture at the Tribune building. the proposed design was a multimedia and a multidimensional experience that addressed the symbolism of the original Liberty Tree. Designed by Suhail.
Chicago Social/Latin Lover/January 2007
Latin Lover:
 Douglas Rodriguez's sexy and swanky new spot, Delacosta. Has patrons swooning along the riverfront.
Delacosta, the stunning new restaurant from Latino super-chef Douglas Rodriguez sits near Navy Pier on a stretch of galleries and gourmet stores- and when you first walk in, you may assume you've opened the wrong door and stepped inside an art gallery. I didn't notice people eating in Delacosta for several minutes; I didn't even notice food. What I noticed is that every square foot shimmers with decoration.
The entryway is strung with Venetian–like masks; the bar at front is illuminated with tiny white lights that hang light Tinkerbell; and the walls are dressed up in fabrics of countless patterns and textures, including lanterns made out of fringe and fabric. After all, who would just paint or wallpaper a wall? Please.
In other words, although Delacosta is Rodriguez's big opening in Chicago, the show's been stolen by the restaurants designer, Suhail, who's responsible for spaces like Sonotheque and the restaurant del Toro. He's created an extravaganza that nods to Tim Burton, including macabre puppets, and its free-associative to the point of incoherence, but somehow he's pulled it off.
At a table with a good vantage point, and an indulgent dinner companion, you can talk until dessert about the design and not get bored. In part, that's because there's so much of it; the restaurant just doesn't stop. Its long but narrow, seating an immodest 250, and laid out so seductively that each space, divided by drapes of fabric, feels private.
In the back, where the restaurant corkscrews west along the Chicago river and turns into a solarium, there are even larger cabana-like booths that can be rented out for a VIP night on the town.
Restaurants, like people, can feel successful. Creating that effect isn't easy – but Delacosta seems to have figured out the formula. Just don't get scared of the puppets.
Design Diffusion News/Mod/January-February 2001
'Mod', together with the 'Tizi Melloul', are the most fashionable restaurants in Chicago. Opened just a few months ago…Although food design is the avowed focus of attention of teamwork, both the furniture and the atmosphere stand out, proving extremely successful in town. The contemporary design of 'Mod' epitomizes the opinion of the British architect, Suhail—he attended the Birmingham School of Architecture and studied interior and furniture design in Chicago—on modernism. "Modernism currently means colour, light and all the technologies available for processing materials and using resources according to innovative approaches." This concept translates into pure shapes and surfaces, the recurrent use of the circle and the square in space. These forms and the innovative use of technologies for processing materials are to be found everywhere at 'Mod,' ranging from bright orange acrylic panels in the hall to the partitions in the dining room, made from recycled plastic and cut according to water jet technique. 
As well as dealing with the design, Suhail also had all the pieces of furniture of the restaurant customized. A white and stainless steel lounge area; a charming set of 30-40 inflatable lamps hanging in the bar; white chairs matching white Corian tables: all of this helps convey the idea of remarkable space-related purity. This effect if further enhanced by a sound system, provided with the D.J. option for private events, and a floor made from recycled rubber. You can also eat in the lounge, with a smaller menu, which can be enjoyed late at night. The dining area boasts a 'table of amusement' seating up to twelve, made from sandblasted glass as well as a set of Corian tables matching egg-shaped chairs. Some mirrors are hanging over a set of benches made from recycled foam and covered in vinyl, to allow the customers to look and be looked at. The dining area is divided in two zones—a green one and a blue one—by a removable screen. A light sculpture stands out; Suhail took it—together with some other pieces of furniture—from the latest 'Milan Furniture Show,' in which he had been asked to take part with his own designs.
Interiors/No Reservations/March 2001
No Reservations:
From Notting Hill's Westbourne to Manhattan's Hudson, chic hotels are popping up with guest-rooms of ever shrinking dimensions. How are customers lured to spend a night in these matchboxes, never mind to pay upward of $300 for the privilege. Intrigued by the design challenges of a microscopic guestroom, Interiors asked five firms known for exceptional creativity (though not necessary for hotel work) to introduce comfort, luxury, and high-tech amenities in 140 Square-feet, including bath.
SUHAIL The Final Frontier:
This design is inspired by space station, airplane, and yacht design, in which maximizing limited space is crucial. All the major components for the room are to be prefabricated and installed into the space after the flooring, plumbing, and electrical systems are completed. For example, the stainless steel hygiene unit contains all standard components, and once connected to the various systems will be ready to operate, decreasing construction time and costs.
Electronics play an essential part in the design. At a touch of a button photosensitive windows can be made transparent, translucent, or blacked out completely. The fingerprint entry door system allows access once a guest has checked in and had his or her thumbprint scanned at reception. A laptop can be hooked up to the high-definition plasma screen; convenience outlets throughout the space allow freedom to work from anywhere in the room.
The womb-like bed module, designed to completely encapsulate the guest, is composed of raised-cell TechnoGel, a material in a hybrid liquid/solid state. This characteristic and the product's anatomic shape allow improved pressure distribution and air circulation, providing a better night's sleep.
Synthetic materials are balanced with a deep, rich ebony specified for the flooring and the wall and storage systems. To maximize usable square footage, storage units are housed beneath the bed, while bins and hooks for clothing are installed overhead; a retractable seat set into the stainless steel wall provides additional floor space. 
Chicago Magazine/DeLaCosta/May 2007
Douglas Rodriquez brings his New York Patria-style Nuevo Latino cooking to the River East Art Center in an oh-so-flashy harlequin-motif setting. Most of the plates are small, but many of the flavors are big, as in the ceviche bar's Ecuadorian white shrimp ceviche with charred tomato sauce, avocado, and a side of corn nuts. the scene is as much glitzy nightclub as restaurant, with poptails (fruit martinis with popsicle garnishes) and muddled drinks like mojitos from a special "muddle bar"
Showstopper:
Chocolate mouse cigar with edible ashes and a cookie-candy matchbook
Who goes there:
 The same scenester crowd that hung out at SushiSamba Rio and Japonais when they opened
Party-hearty touch:
Riverside solarium with four cabanas, each with its own bar and bartender
Other favorites:
Chorizo in a blanket , cocktail-size sausages wrapped in corn arepas with anise and green olive tapenade; guava molasses lamb ribs with vigoron, Nicaraguan pickled cabbage relish
Gripe:
Some of tables are so dimly illuminated that seeing the food is a strain
The Question:
Will DeLaCosta survive when the next hot thing opens and the trend-followers move on?
​​​​​​​
Chicago Social/Acoustic Enclave/March 2003
By the day you'd easily miss the gray façade of Sonotheque, located two doors down from Flo on Chicago Avenue, but by night, a frosted glass entrance glows out over the street. The latest collaboration from local entrepreneurs Joe Bryl, Donnie Madia and Terry Alexander is all about the music – no cover, no fancy schmancy drinks, not even a sign on the door. Designer Suhail took a subtle and sleek approach in the interior with low, gray couches and square aluminum powder-coated ceiling tiles positioned for excellent acoustics. Even the walls are covered with Swedish egg carton-like panels to enhance the sound even more. And what will you hear in Sonotheque? DJ's spin anything from house to experimental to hip hop and jazz on a massive booth set up in the middle of the room. Come early on the weekends to avoid possible lines.
Chicago Social/Design of the year/August 2007
In his Chicago debut DeLaCosta Nuevo Latino chef Douglas Rodriquez was immediately shown up - by the designer of his own restaurant, Suhail. Instead of serving food here, there should start giving guided tours. the entryway is draped with unnerving Venetian masks, the walls are layered with fabrics of flamboyant patterns and textures, and the rooms are decorated with gloriously weird, Tim Burton-ish puppet boxes. Along the back where the restaurant hangs over the Chicago River, Suhail installed billowing, cabana-style booths, it's a tour de force of imagination and it may be the best reason to keep coming back to DeLaCosta. As with the best art, you discover more details each time.
Display & Design Ideas/Four-Star Lighting for Hip Restaurants/April 2002
Mood-setting illumination raises the appeal level for high-style dining
Mod, Chicago:
London-born designer Suhail even coined a word, "modism," to describe the style for the restaurant Mod that he created in Chicago's Wicker Park, fast becoming an artsy West Side enclave. "I wanted to interpret modern materials—synthetics and recycled—and utilize their opaque or translucent qualities," he says. "My inspiration was the film 2001: A Space Odyssey, in the scenes where the hero was inside Hal, the computer, trying to switch it off," Suhail recounted.
One of Suhail's objectives for Mod was to integrate the lighting with the architecture throughout. In the dining room, he suspended rows of square acrylic boxes measuring 3 ft. by 3 ft. by 10 in. Custom fabricated in three colors, Suhail chose green for the main space and orange and blue for the back area. Above the boxes is a track system from Juno containing luminaires fitted with dimmable 50-watt spot lamps that beam light through the boxes onto the tables and diners below.
Hidden behind the room's banquettes is a Linea track system that produces a soft continuous flattering background glow produced by small incandescent lamps. Above the bar, Suhail turned clear inflatable vinyl bags used for packing and shipping into light fixtures by encasing a single T5 fluorescent tube in each bag.
Suhail collaborated with designer Daniel Streng to create the lighting installation above the bar. The 4 ft. by 4ft. Chromawall lighting sculpture was by London designer Jeremy Lord.
New City/The Big Heat/November 2002
London born designer Suhail is the of-the-moment space shifter who consistently reinvents himself, from the looks-good-on-TV "Real World Chicago" house to the futuristic eye candy of MOD. Most recently, he's coming off the  newly opened dessert bar Sugar, which has gotten as much praise for its decadent and bizarre Willy-Wonka-on-crack stylings as for the edible sweets.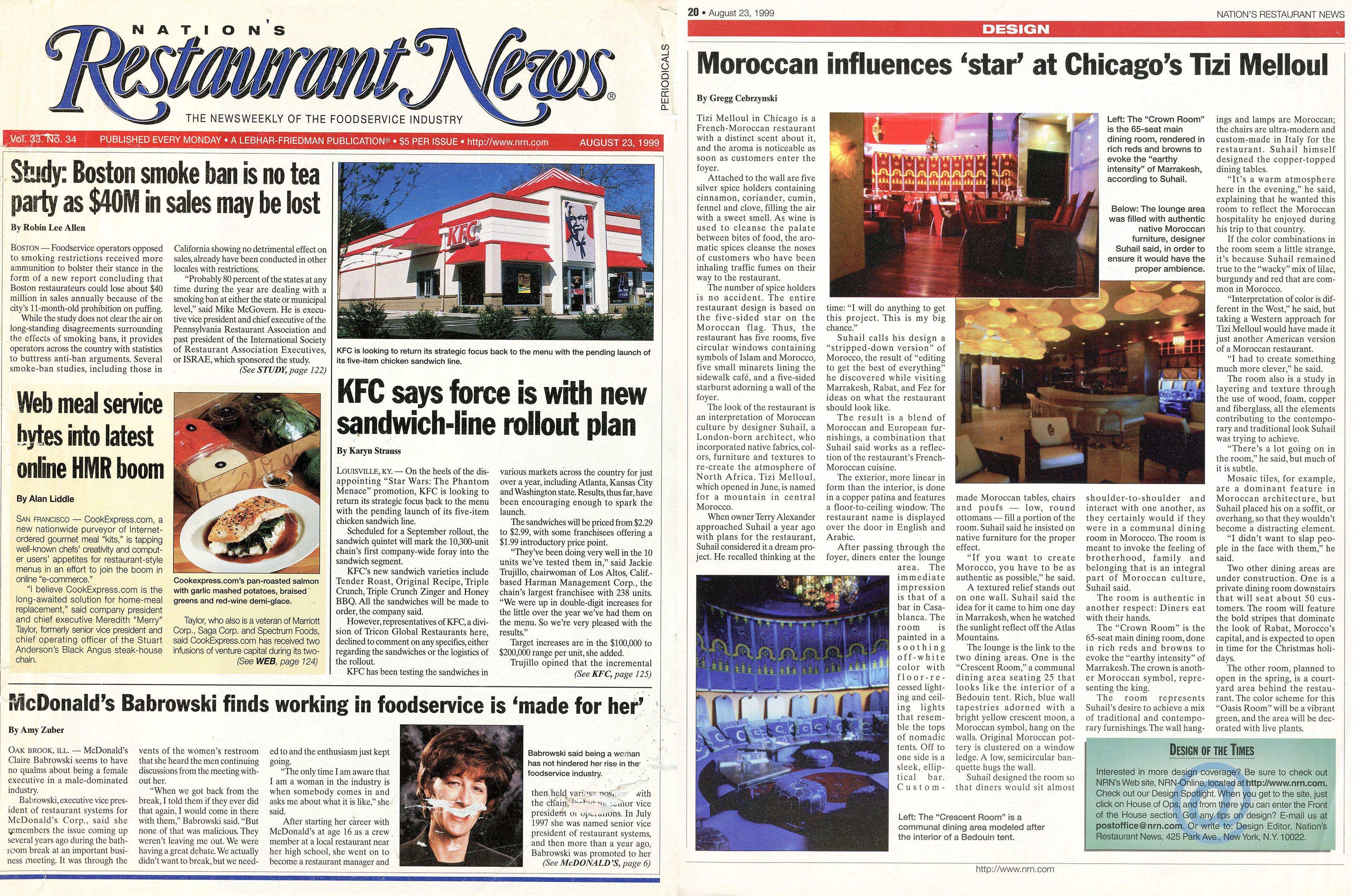 Nation's Restaurant News/Moroccan Influences Star at Chicago's Tizi Melloul/August 1999
Tizi Melloul in Chicago is a French-Moroccan restaurant with a distinct scent about it, and the aroma is noticeable as soon as customers enter the foyer. Attached to the wall are five silver spice holders containing cinnamon, coriader, cumin, fennel and clove, filling the air with a sweet smell. As wine is used to cleanse the palate between bites of food, the aromatic spices cleanse the noses of customers who have been inhaling traffic fumes on their way to the restaurant. The number of spice holders is no accident. The entire restaurant design is based on the five-sided star of the Moroccan flag. Thus, the restaurant has five rooms, five circular windows containing symbols of Islam and Morocco, five small minarets lining the sidewalk café, and a five-sided starburst adorning a wall of the foyer.
The look of the restaurant is an interpretation of Moroccan culture by designer Suhail, a London-born architect, who incorporated native fabrics, colors, furniture and textures to re-create the atmosphere of North Africa. Tizi Melloul, which opened in June, is named for a mountain in central Morocco. When owner Terry Alexander approached Suhail a year ago with plans for the restaurant, Suhail considered it a dream project. He recalled thinking at the time: "I will do anything to get this project. This is my big chance."
Suhail calls his design a "stripped-down version" of Morocco, the result of "editing to get the best of everything" he discovered while visiting Marrakesh, Rabat, and Fez for ideas on what the restaurant should look like. The result is a blend of Moroccan and European furnishings, a combination that Suhail said works as a reflection of the restaurant's French-Moroccan cuisine. The exterior, more linear in form than the interior, is done in a copper patina and features a floor-to-ceiling window. The restaurant name is displayed over the door in English and Arabic.
After passing through the foyer, diners enter the lounge area. The immediate impression is that of a bar in Casablanca. The room is painted in a soothing off-white color with floor-recessed lighting and ceiling lights that resemble the tops of nomadic tents. Off to one side is a sleek, elliptical bar. Custom-made Moroccan tables, chairs and poufs—low, round ottomans—fill a portion of the room. Suhail said he insisted on native furniture for the proper effect. "If you want to create Morocco, you have to be as authentic as possible," he said. A textured relief stands out on one wall. Suhail said the idea for it came to him one day in Marrakesh, when he watched the sunlight reflect off the Atlas Mountains.
The lounge is the link to the two dining areas. One is the "Crescent Room," a communal dining area seating 25 that looks like the interior of a Bedouin tent. Rich, blue wall tapestries adorned with a bright blue crescent moon, a Moroccan symbol, hang on the walls. Original Moroccan pottery is clustered on a window ledge. A low, semicircular banquette hugs the wall.
Suhail designed the room so that diners would sit almost shoulder-to-shoulder and interact with one another, as they certainly would if they were in a communal dining room in Morocco. The room is meant to invoke the feeling of brotherhood, family and belonging that is an integral part of Moroccan culture, Suhail said. The room is authentic in another respect: Diners eat with their hands.
The "Crown Room" is the 65-seat main dining room, done in rich reds and browns to evoke the "earthy intensity" of Marrakesh. The crown is another Moroccan symbol, representing the king. The room represents Suhail's desire to achieve a mix of traditional and contemporary furnishings. The wall hangings and lamps are Moroccan; the chairs are ultra-modern and custom-made in Italy for the restaurant. Suhail himself designed the copper-topped dining tables. "It's a warm atmosphere here in the evening," he said, explaining that he wanted this room to reflect the Moroccan hospitality he enjoyed during his trip to that country.
If the color combinations seem a little strange, it's because Suhail remained true to the "wacky" mix of lilac, burgundy and red that are common in Morocco. "Interpretation of color is different in the West," he said, but taking a Western approach for Tizi Melloul would have made it just another American version of a Moroccan restaurant. "I had to create something more clever," he said. The room also is a study in the layering and texture through the use of wood, foam, copper and fiberglass, all the elements contributing to the contemporary and traditional look Suhail was trying to achieve.
"There's a lot going on in the room," he said, but much of it is subtle. Mosaic tiles, for example, are a dominant feature in Moroccan architecture, but Suhail placed his on a soffit, or overhang, so that they wouldn't become a distracting element. "I didn't want to slap people in the face with them," he said. Two other dining areas are under construction. One is a private dining room downstairs that will seat about 50 customers. The room will feature the bold striped that dominate the look of Rabat, Morocco's capital, and is expected to open in time for the Christmas holidays The other room, planned to open in spring, is a courtyard area behind the restaurant. The color scheme for this "Oasis Room" will be a vibrant green, and the area will be decorated with live plants.
UR Chicago/Design by Suhail/November 2002
If the design of local restaurants Mod, Tizi Melloul, and the new Sugar have caught your eye, it's the work of the triple-threat designer-architect-welder Suhail you're staring at. With the ability to change gears from his high-profile Chicago Real World house in Wicker Park to the low-key boutique p.45, this is not a man who lets fad, fashion or funds dictate his work—he simply does what he wants and the buzz keeps on buzzing. And like most true artists, Suhail doesn't really sweat what the other guy is doing; in fact, he usually has no idea of what's hot and what's not in the design world. So when we asked him to pick five restaurants in the city and critique their design, he laughed and replied that the only two spots he goes to are a cabbie-favored Pakistani joint on Chicago Avenue and Caribbana Bar and Grill in Wrigleyville, home of what Suhail swears is "the best Mojito ever." In a compromise, UR selected our own handful of restaurants we wanted his feedback on, he agreed, and we started out with what turned out to indeed be damn good minty-rum Mojitos, tender Jamaican jerk wings, and the hands-down best jerk sauce around. After Caribbana put Suhail in the zone, we carted him around town and forced out some designer dish,